Convert, Edit, Cut, and Transform your Videos or Audio!
Okay, first point I should make is that it is obvious that the software provided by Freemake is surely not widely used like that of VideoLAN (VLC).
However, I think you should consider this software, in particular their video converter, for some of the features it offers as well as the very easy, user-friendly graphical user interface (GUI). They have been adding more and more with passing time. Soon, I imagine it will have so much functionality that it will do the same work as VideoLAN yet with much easier use of features.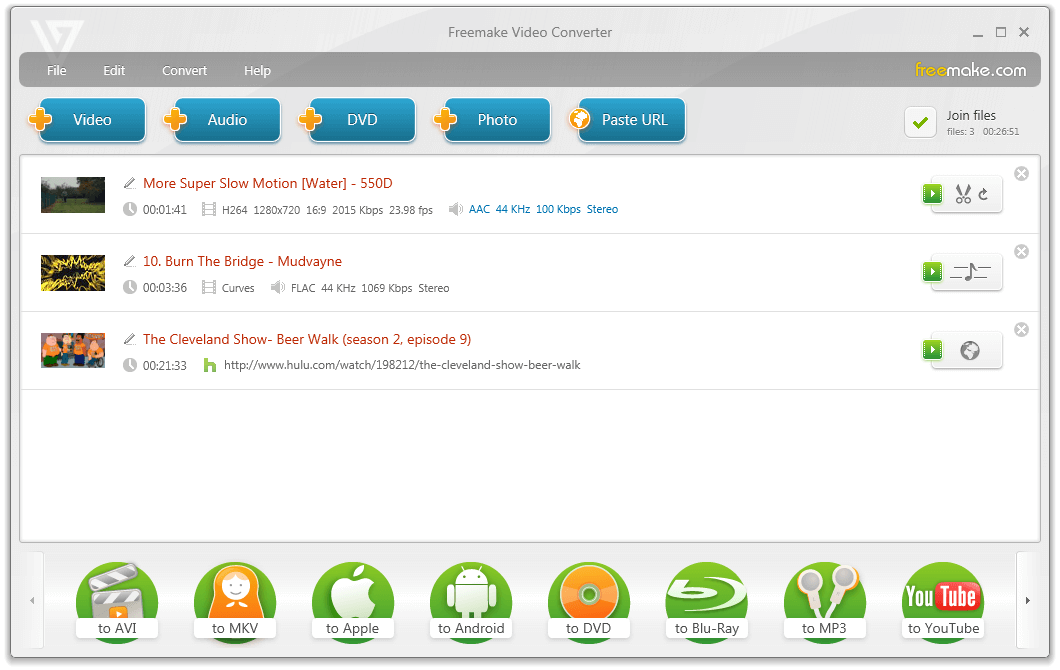 Initial versions of the Freemake Video Converter (http://www.freemake.com/free_video_converter/) simply allowed users to either open and import their own files (i.e. videos, audios, dvd, or photos) or to add in a video link (being that it is one of their supported sites) via the "Paste URL" button and convert them to a file format with an extension/container of their choice.
Once the file or link was ready to be converted, you'd have the option of choosing and editing the output parameters such as video and audio rates and types. In fact, there is even an option to add in subtitles for videos.
Well of course all these options still exist in today's current version. However, one big change I discovered was that you can now edit, cut, and tranform your videos like you do with VLC.
Here's how:
Once the video is enqueue for converting (displayed in main menu/page), you click on the scissors icon with the clockwise motion arrow on the far right from the displayed file info you have imported for conversion. After you click on this, you will see a new window pop-up that allows you to play or run through the video/audio. In fact, there are a number of control options across the bottom of the window including options for cutting and transforming your video. Currently, as of this writing, those are all the available options. However, I anticipate that Freemake will create and enable other cool features with additional interest and support in the time to come.
Check out all the exquisite features available for the Freemake Video Converter via: http://www.freemake.com/free_video_converter/
Thanks for checking out this blogpost.
Feel free to comment or share!